Last updated 03/20/20
FREE U.S. SHIPPING | ALL ORDERS $50+
We currently ship to the 48 contiguous United States and the District of Columbia as well as Hawaii, Alaska, American Samoa, U.S. Virgin Islands, Northern Marina Islands, Guam, Puerto Rico, and Military Post Offices. While we want you to receive your order as soon as possible, expect longer Priority shipping times for APO/DPO/FPO orders.
Please see the shipping cost summary below and contact us if you would like us to ship to another location.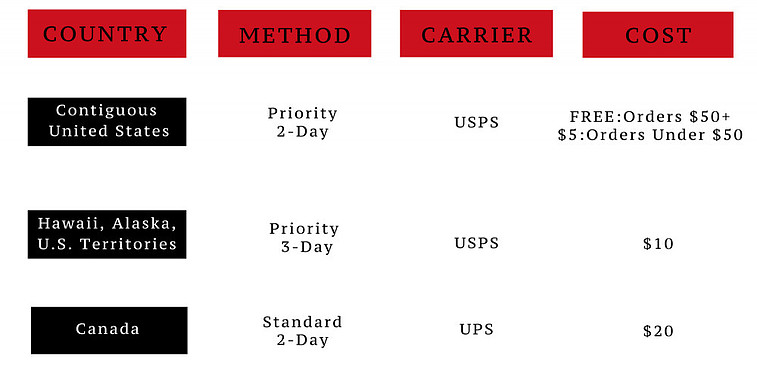 ORDER FULFILLMENT
Orders are typically fulfilled within 5-7 calendar days.  Our products are hand-made in small batches, and as a new company we do not yet maintain a large inventory.  Please allow an additional 5-7 calendar days for high demand or back ordered items.
Our candle studio operates Monday – Saturday during standard business hours, except on national holidays at which time the warehouse will be closed. In these instances, we take steps to ensure shipment delays will be kept to a minimum.
Change Of Delivery Address
For a change of delivery address requests, we are able to change the address at any time before the order has been shipped.  Please contact us as soon as possible if this is the case.
P.O. Box Shipping
We are able to ship to P.O. Box addresses USPS only. We are unable to offer couriers services to these locations.
Items Out Of Stock
We value sustainability and prefer to ship items in as few shipments as possible, but we want you to enjoy your purchase swiftly. If an out of stock item will take more than an additional 5 – 7 days, then we will ship the in-stock items immediately and send the remaining items once they return to stock.
Tracking Notifications
Upon shipping, customers will receive a tracking link from which they will be able to follow the progress of their shipment based on the latest updates made available by the shipping provider.
DUTIES AND TAXES
Sales Tax
All orders shipped to the District of Columbia are subject to a 6.5% sales tax, which is calculated prior to checkout.
Import Duties & Taxes
Import duties and taxes for international shipments may be liable to be paid upon arrival in the destination country. This varies by country, and Lanique + Co LLC encourages you to be aware of these potential costs before placing an order with us.
If you refuse to pay duties and taxes upon arrival at your destination country, the goods will be returned to Lanique + Co LLC at the customers' expense, and the customer will receive a refund for the value of goods paid, minus the cost of the return shipping. The cost of the initial shipping will not be refunded.
CANCELATIONS
If you change your mind before you have received your order, we are able to accept cancellations at any time before the order has been shipped. If an order has already been shipped, then please refer to our Returns Policy.
LOST OR DAMAGED ORDERS
Process for parcel damaged in-transit
If you find a parcel is damaged in transit, if possible, please reject the parcel from the courier and get in touch with our customer service. If the parcel has been delivered without you being present, then please contact us with the next steps.  We will process a refund or replacement as soon as the courier has completed its investigation into the claim.
Process for parcel lost in transit
If the delivery time has exceeded the forecasted time and the courier has not mentioned a shipping delay on its website, then please contact us. We will process a refund or replacement as soon as the courier has conducted an investigation and deemed the parcel lost.
QUESTIONS
If you have any questions concerning our shipping policy, then please contact us at gratitude@laniqueandco.com.